Explore Our Excellent Massage Services
Hawaiian Temple Massage, the massage is so good that they named it twice! Lots of oil and forearms using long soothing strokes. Hawaii's answer to Swedish massage. Very relaxing overall.
Deep Tissue - Not for wimps
Some of us are trained Rolfers, and we are not kidding about the deep part. Just let us know when we are pressing too hard, and remember that this is our signature massage.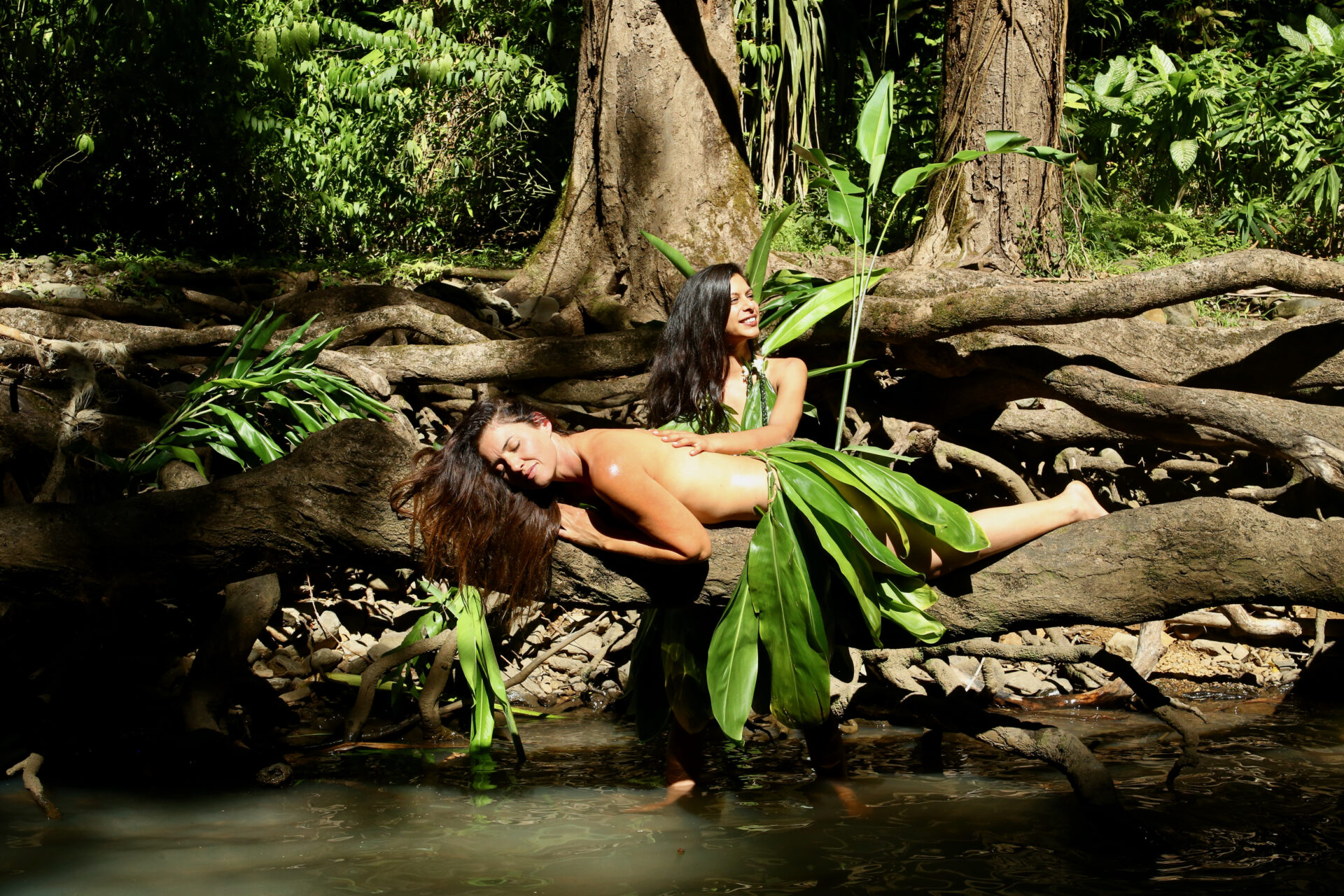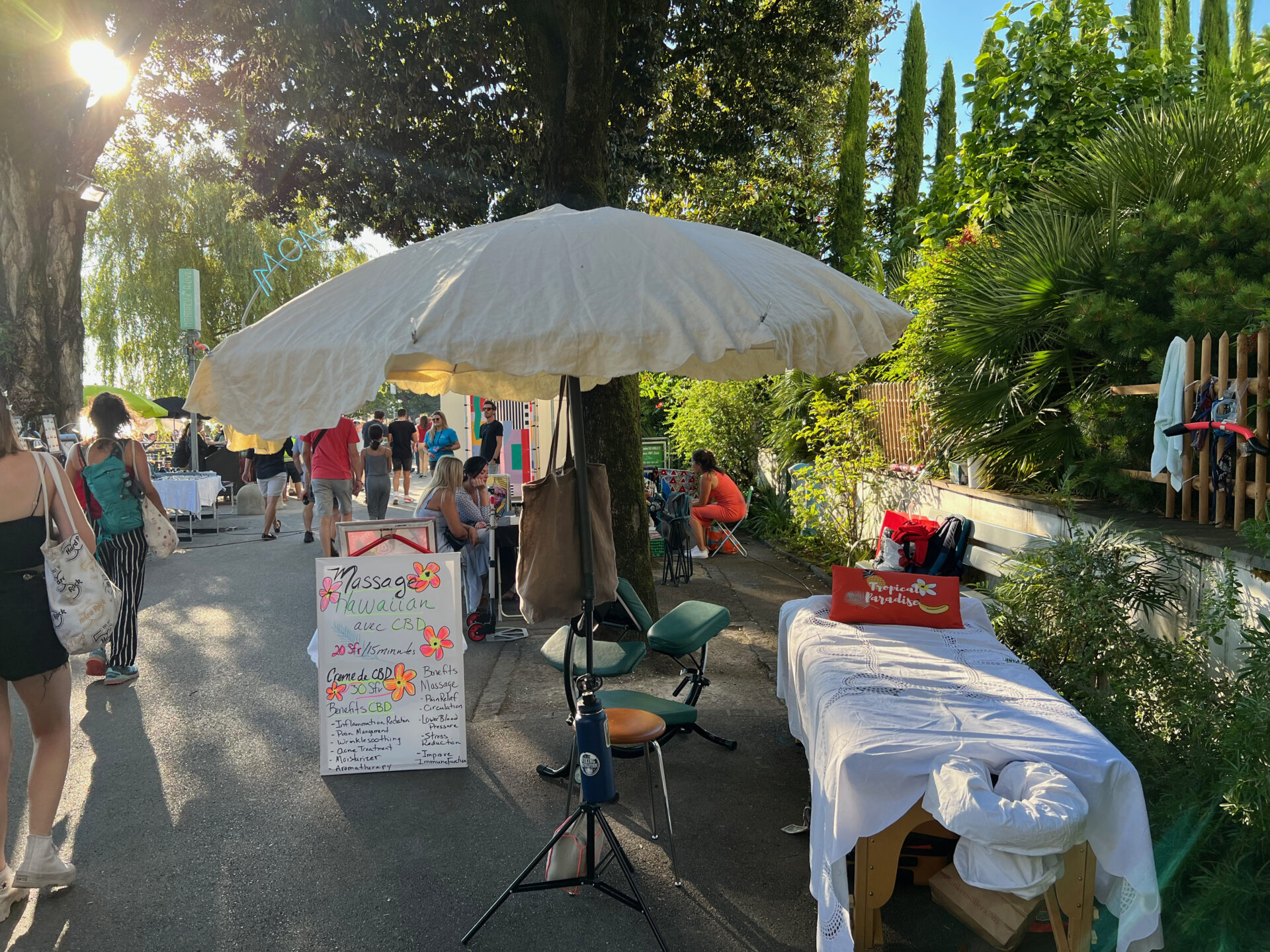 Basically, we heat some rocks and let the heat do all the work. We use lots of oil for this one and loads of aromatherapy. The Cadillac of the massage world, this is for the deep plunge. Do not plan on driving yourself home.
It involves more stretching and joint rotation. We work with compression and elongation. Great for pre and post-racing or other rigorous forms of workout. We work with many athletes from many fields and like to think of ourselves as specialists.


Contrary to the common belief that sports is deep, its really more a of stretching technique. Its great for pre and post sporting events, of course, but also good for those who like to open up the joints with stretching and more brisk movement. Can be done fully clothed, as we have discovered through years of sponsoring sporting events island-wide. We can work with you individually to focus on areas of tension and fatigue. We understand each person, and each athlete is different. We also know that cyclists have certain issues, surfers have others and this is true with each and every sport. $115
The massage you always imagine, relaxing and the perfect compliment to your holiday list of essentials. Think of yourself as dough and us as pastry chefs, really good pastry chefs.
What can we tell you, fancy foot massage. We rub the heck out of your tired, old paws, and not only does it feel like you leave the planet, but it's great for all your organs and everything, pretty much.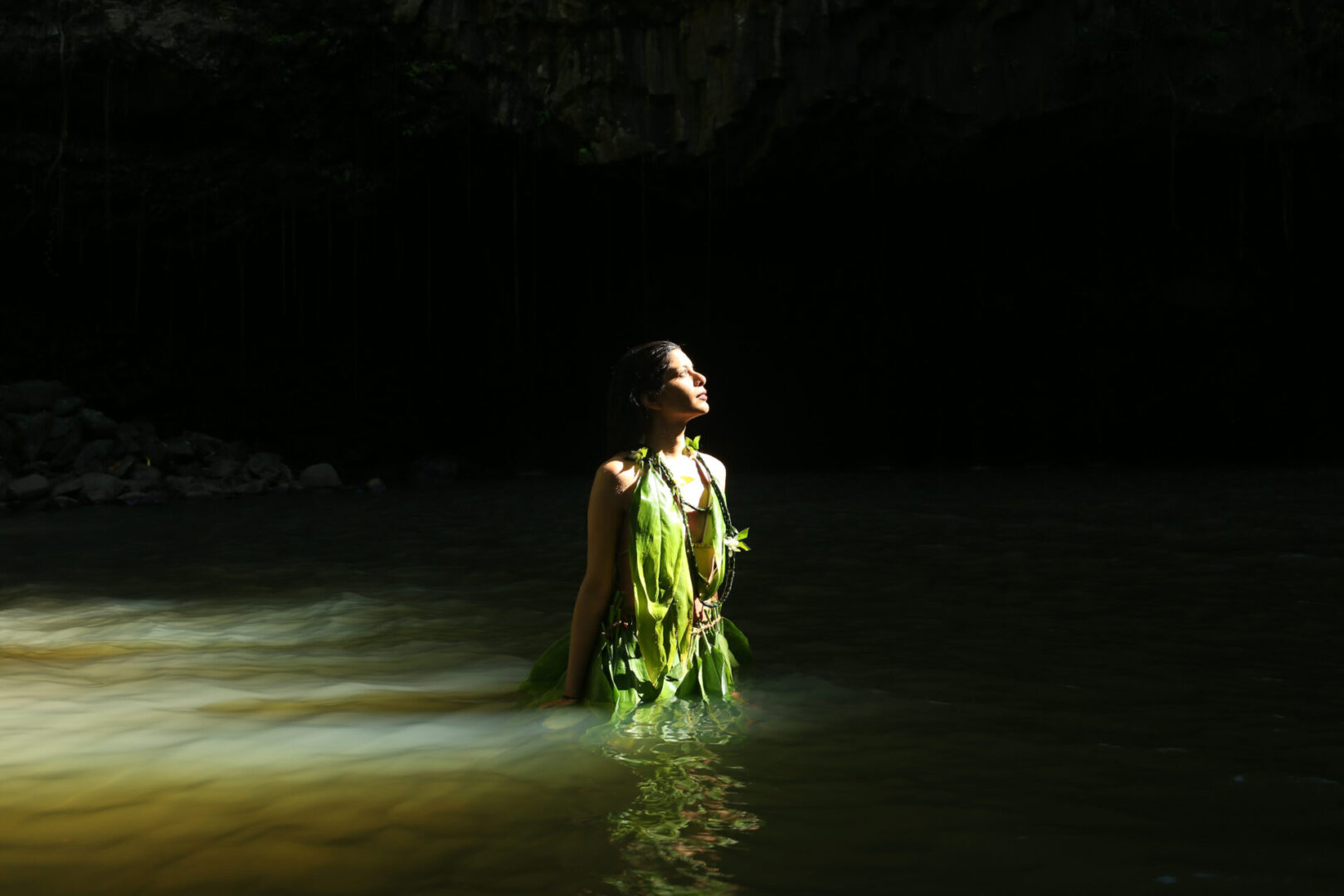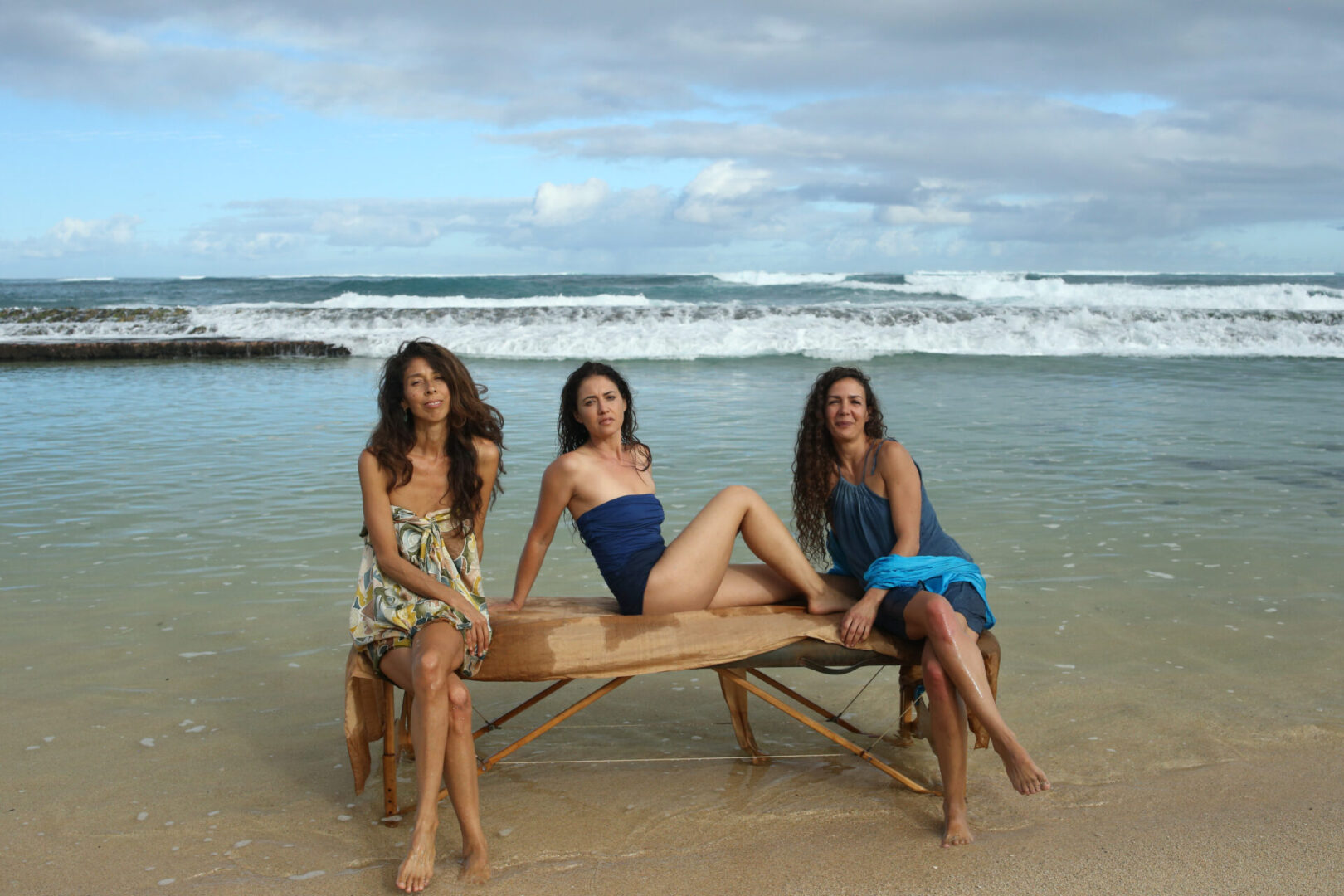 Traditional mat and fully clothed (two-hour treatment) or modified table format (one hour is enough.) This is the best leg massage in the world and, interestingly enough, fantastic for the lower back.
The quick version, it feels like a yoga only you don't actually have to sweat.
Two therapists, twice as many hands, and way more decadent than any of our other massages. This technique is great for assisting you in letting go while your body loses the ability to concentrate on fighting back and just surrender.
Yes, we work on pre-natal women. We have you on your side, propped up with pillows, and we are especially nice to those of you with babies in your bellies because we love babies! This can be done throughout your entire pregnancy.
N.M.T. is used for pain relief and specific problems. These are then addressed through systematic and site-specific massage as well as lengthens and strengthens tissues.
A Japanese form of acupressure, in which pressure is applied using the thumb, elbow, or knee perpendicularly to the skin at acupoints, combined with passive stretching and rotation of the joints.
Aromatouch Aromatherapy Massage
Saturate your senses with our magnificent new line of doTerra essential oils in a truly uplifting experience in one of nature's most precious gifts. Great for many conditions, but fabulous for invigorating energy levels and relaxing the mind and body via scent and massage.
ASHIATSU is a massage technique that involves the application of the practitioner's feet, rather than the hands or arms, to a patient's body. In Japanese, ashi means foot, and atsu means pressure; so it literally translates to foot pressure. It has also been called back-walking.
During an Ashiatsu massage, therapists use their bare feet to deliver deep compression, long gliding strokes, and/or assisted stretching. Reading that, you might feel apprehensive about receiving an Ashiatsu treatment. You may wonder if having your back walked on will be intense, painful, or even scary. Don't worry, though! Ashiatsu therapists have full control over how your body is treated, and the massage is tailored to your needs just as a deep tissue or Swedish massage would be.  $135.
The best massage series available hands-down, anywhere. A series of ten two-hour sessions where we address your entire body in increments in order to re-sculpt you back to the ease and homeostasis of your former years. A truly life-transforming process, best to have 10 weeks on island in order to be done properly. Very intensive work, excellent for recovery from injury, from more complex physical challenges such as scoliosis, injury from accident, athletic overload, work-related injuries and pain, etc... Brilliant work with highly-trained therapists and not for those who do not subscribe to the no pain no gain philosophy. Can be catered to a one time offering if you are experiencing acute symptoms and need some relief. $230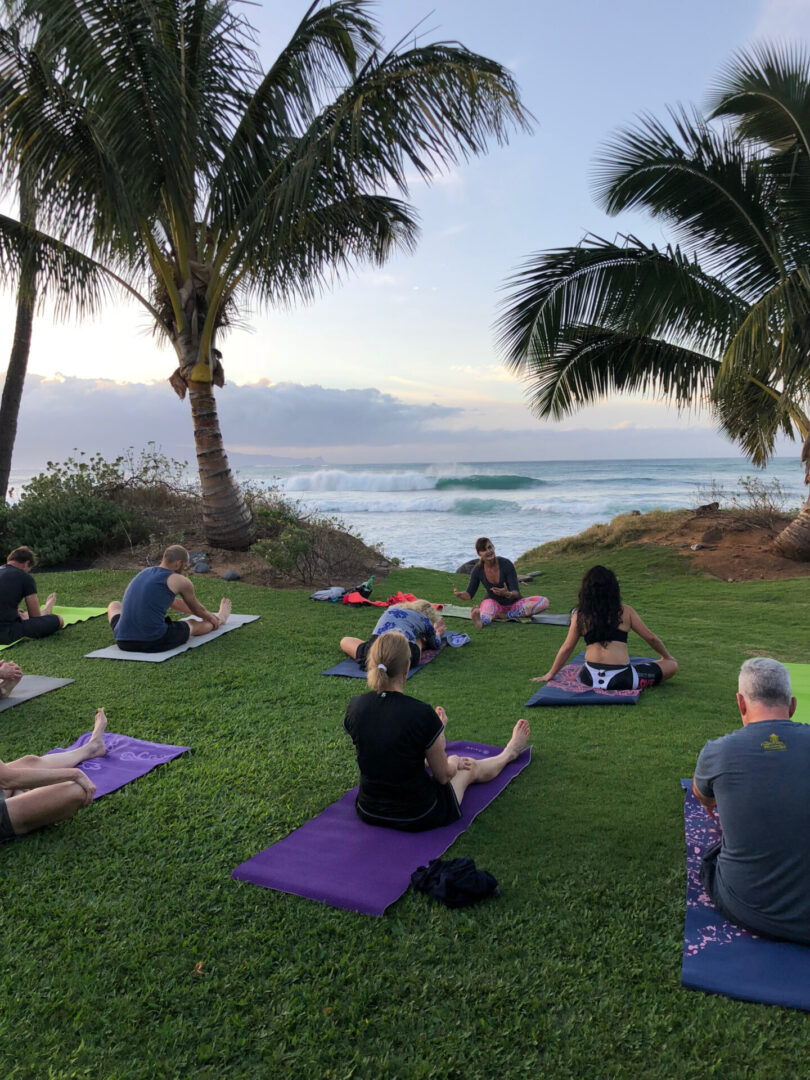 Our unique approach to product stands out amongst other day spas on Maui. We carefully chose our product ingredients with your health and well being in mind. Quality comes before cost in our product decisions and we stand by the quality of products used in our day spa. We also strive to support our local community, as you will see many of our products are locally made. The majority of the products used in our spa treatments are sold in our retail area. Since we realize that your skin literally drinks in the products we utilize, we buy organic, food-grade extra virgin coconut oil as our base oil. The healing properties of this oil are also extensive that there are books written about it. We use it because it smells amazing but it is also great for deep tissue. It is even useful as a sun block, so you don't have to wipe it off before going out in the sun after your treatments. What is lovely about coconut oil is that it is a natural choice for blending tropical flavors, scents and locally harvested essential oils.
We use *Sol Flower Botanicals, a local producer of skin care products designed with safety for humans and reef, in the spirit of preserving our aina (land). What we put on our skin and in our waters matter to us tremendously. As for our body treatments, we like to mix these up prior to each session so there is no need for preservatives or any additives. Whatever is in season as far as fruits, oils and herbs are mixed accordingly with colorful Hawaiian sea salts and clays to envelop the body.
Specialty Blend Massage
We are enthusiasts. We use specialty blend in our massage, facials and body treatments when requested. As therapists, we realize that value of specialty blend in massage when we began using it several years ago. After performing several hours of massage, our hands and arms hurt less, having received a prophylactic effect of these oils. Many of our team members use these oils for our own pain and other issues, such as insomnia and anxiety, both internally and externally. At our spa we offer you the choice or internal and or external, organic specialty blend oils. We source from Hawaii, California, and Oregon. It is strongly recommended as a synergistic accompaniment to deep tissue and sports massage therapies. And of course, it is always an add-on and never offered without your consent. Hemp is the only oil in our specialty blend offerings and is fully legal in state of Hawaii.
Mama Medicinals is another of our product lines we rely on for specialty blend rich ingredients. We use this line for facial skin care and love their combination of essential oils and emollients.
Meditative Geometry is another local resource we love to work with. We also use arnica and St. John's Wort in our wraps and massage available upon request. Our friend Adrian harvests and crafts these artisanal medicinals here on island and goes to Montana each year as well. What's wonderful is that he works with a local tribe to put it all together and has spent time there in small community where he tries to help the people in this region. Soon we will be adding more information about his endeavors and how you can help support this collective as well. You can order it on line with us or at our studio and choose as an add-on.
Salve
Salve is a remedy made with herbs extracted into oil and thickened with beeswax. We offer this salve as a bridge from the intelligence of our plants to the needs of our humans.
MAGIC HERBAL SALVE
First aid kit in one, to help people get along with nature. Useful for mosquito bites, itches, sunburns, blisters, scrapes, and rashes. Original recipe, sustainably grown and gathered from the wilderness of the Rocky Mountains, Magic Herbal Salve is an all purpose skin remedy.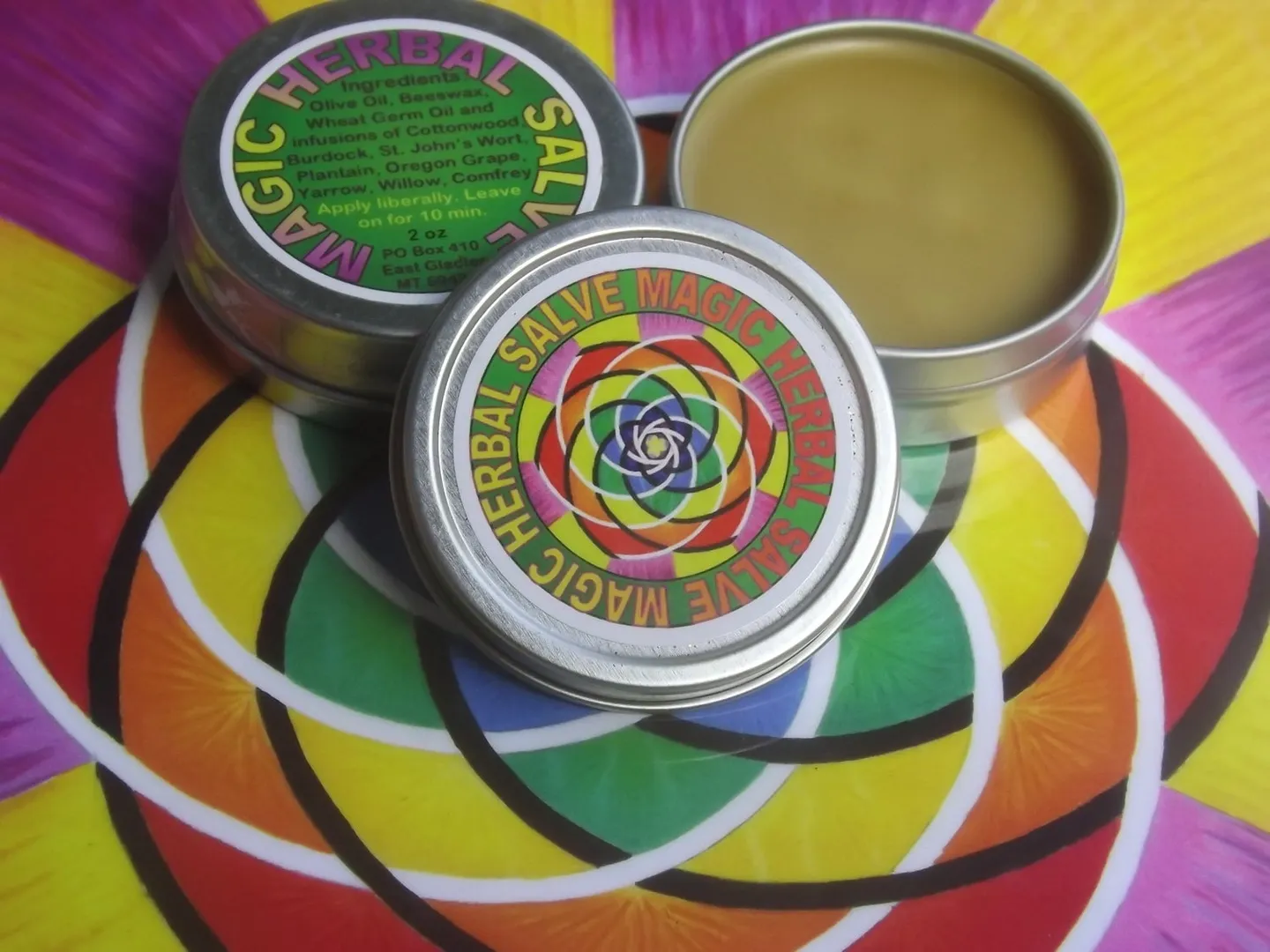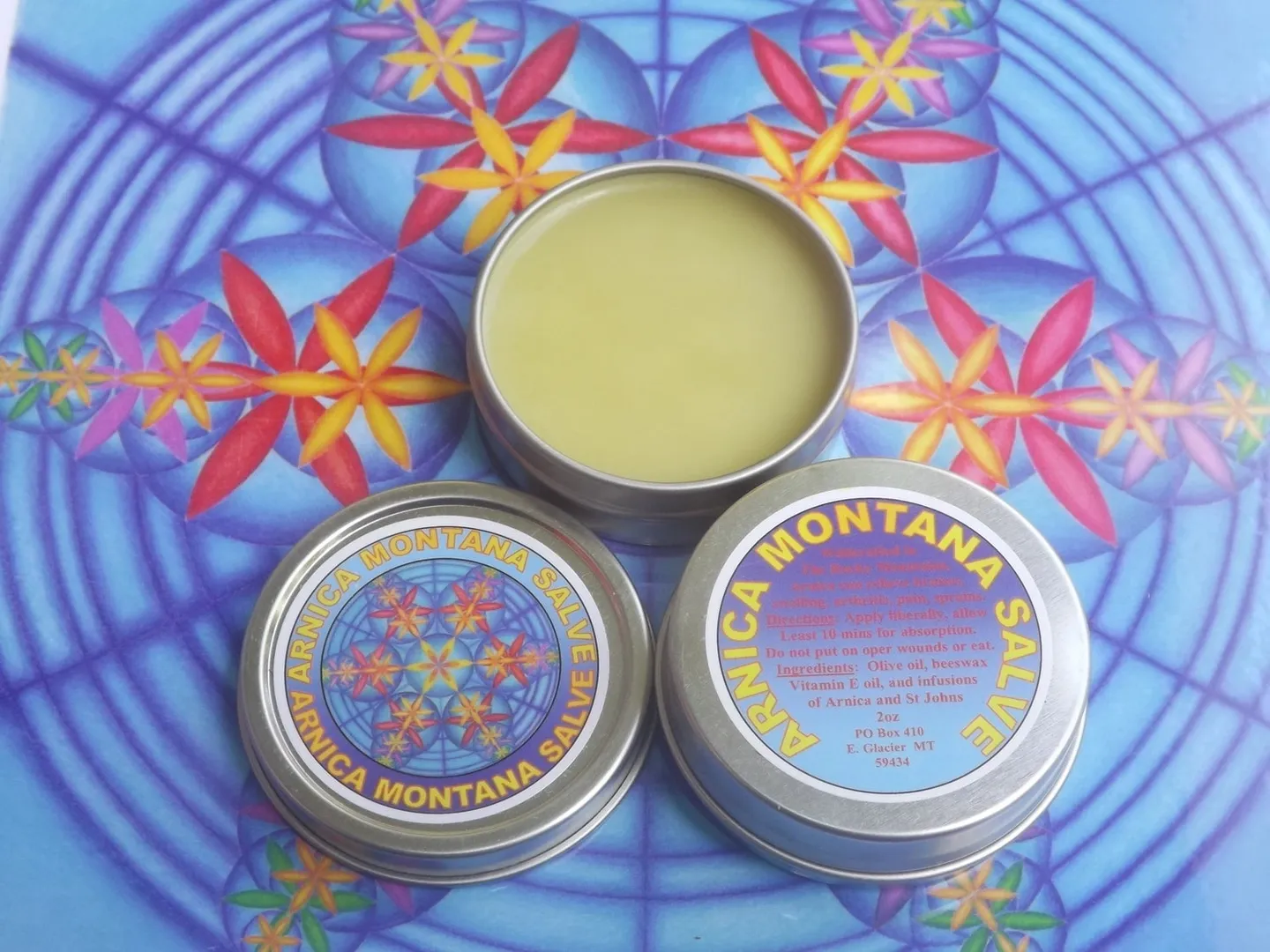 Well known for soothing sore, injured muscles and dramatically reducing bruising and swelling, Arnica is here combined with St. Johns Worths, to be like a massage in a can. Gathered sustainably in the Rocky Mountains.
For both skin and muscles and more: Maui Super Balm Salve is made with world class herbal all stars grown and harvested in Maui. Ingredients include: Soursop, Noni, Tulsi, Oregano, Lemongrass, and more...
Arnica & St. John's-wort Body wrap - We wrap you in a soothing balm of Arnica and St. Johns's-wort for inflammation, nerve pain and soreness. This is a great one for athletes who are hitting it hard, anyone in chronic pain, those who have an acute injury and more. We just added this new wrap and are delighted to share it with you.
50 minutes
$125
Cellulite & or Muscle Spasm Wrap - So the skinny on this one is that we have recently realized that cellulite can be attributed to the balance of sodium and potassium in the body. Sooo we decided to create a wrap for cellulite by enveloping your areas of concern with blends of the following fruits, when available:
The potassium amounts here are for 1 cup of each fruit.
• Jackfruit, 739 mg.
• Elderberries, 280 mg.
• Cantaloupe, 267 mg.
• Grapefruit, 320 mg.
• Apricots, 427 mg.
• Oranges, 326 mg.
• Nectarines, 287 mg.
• Kiwi, 552 mg.
• Bananas, 450 mg.
We serve you fruit shake with this one because these fruits are full of potassium.
Also they are great for muscle cramps so this is a good one for those of you dealing with this issue as well, so we recommend it for our sportier clientele. So what a great option for two very different reasons!
$135 for 50 minutes
We can come to you for our Classic Silver outcall service where we bring the spa to you. Enjoy our standard modalities of massage where we provide table, sheets and music & oils.
$45.00
And because we know that some of you like a more upscale offering, we suggest the Gold Standard where we provide you with portable Hot Stones, steamy hot towels and a medley of essential oils to choose from.
$110
Now for those who are staying at the finest of Maui's vacation rentals, we wish to meet you where you are so sky is the limit on our amenities, we suggest the following for our high end clientele: Deep tissue, specialty blend oil, hot towels, Aromatherapy, foot scrub and scalp rub, oh boy oh boy!
$195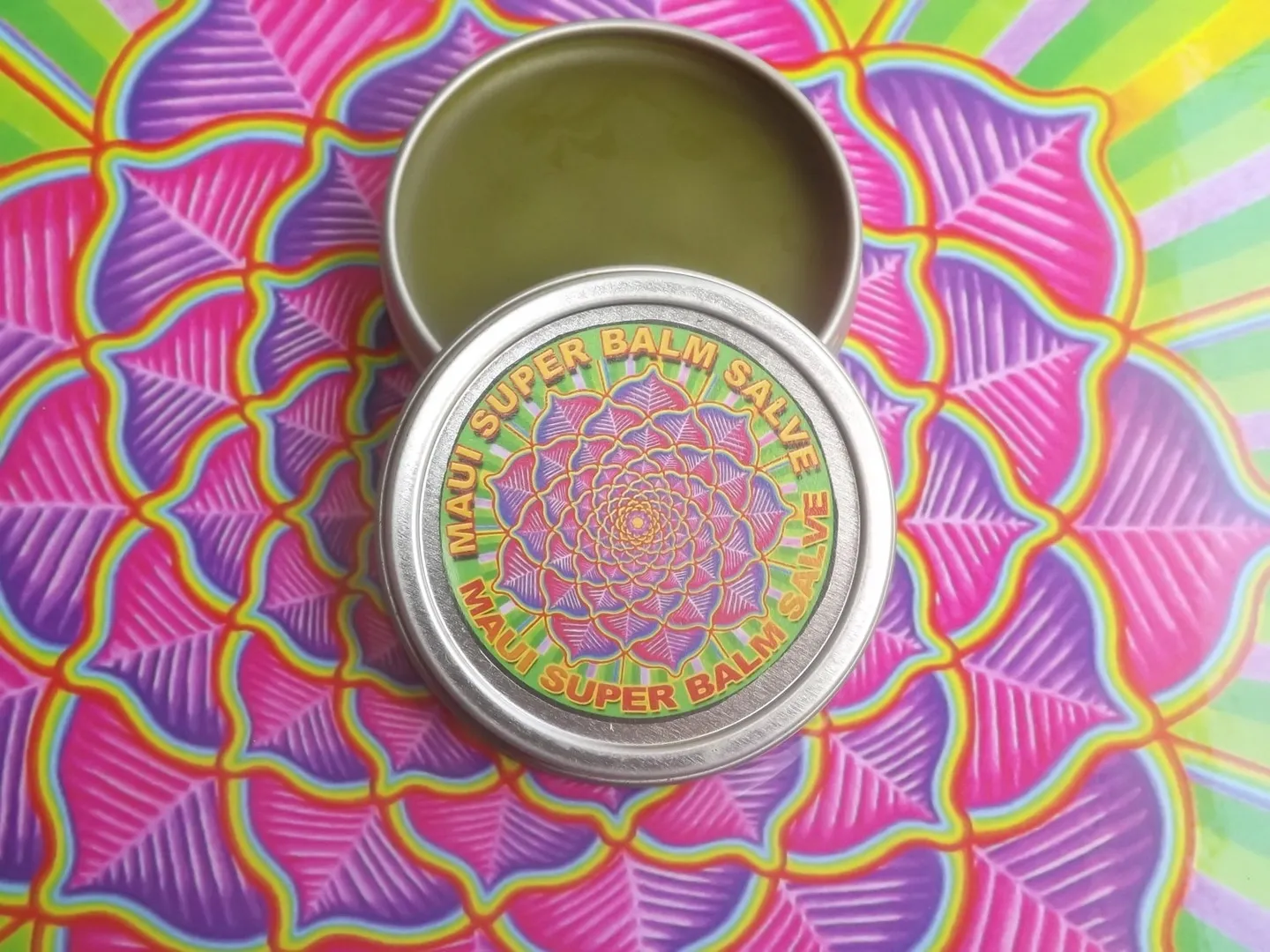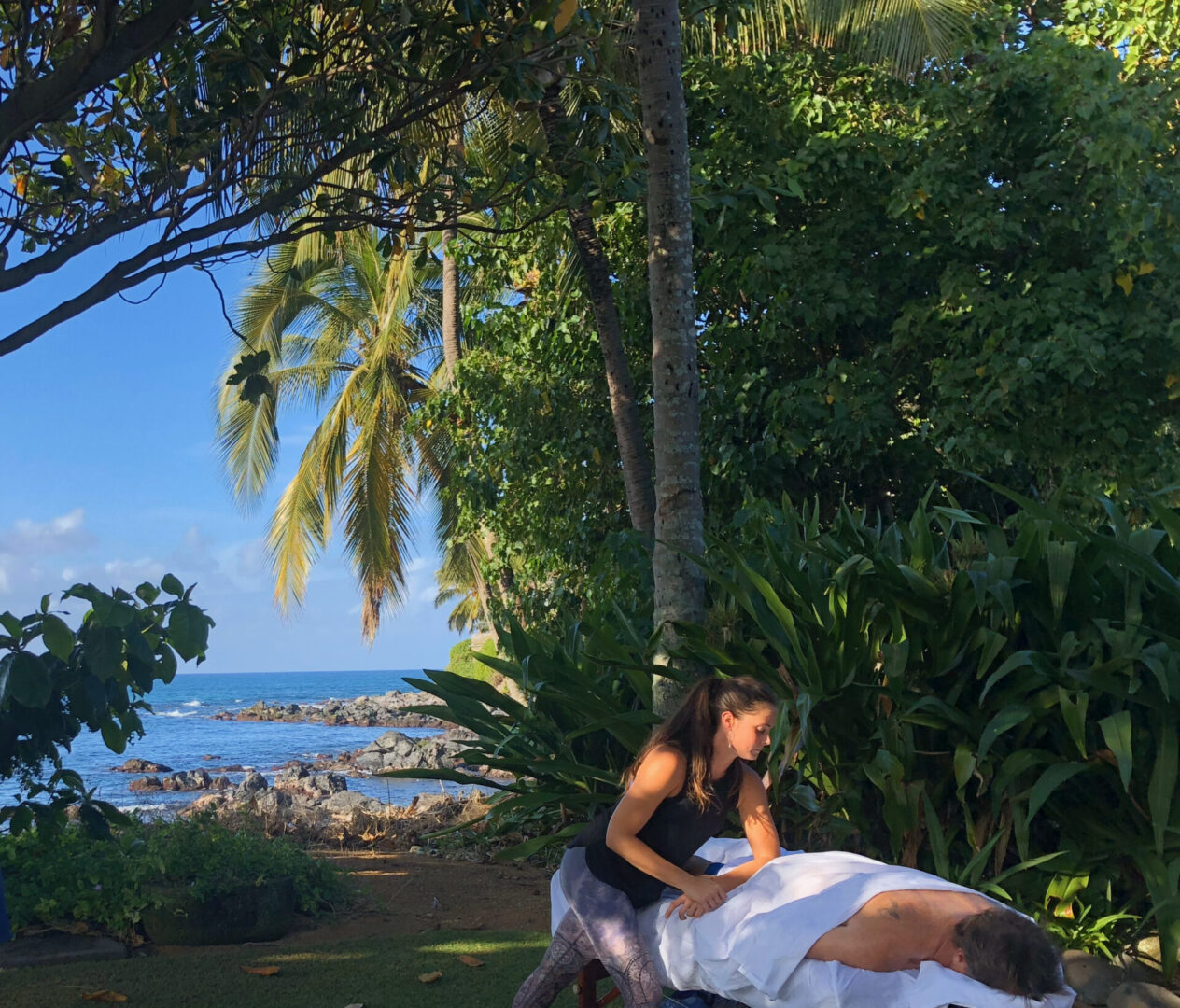 Yoga And Massage Morning Medley
One hour of yoga private beachfront at 9 am for a morning class, followed by an hour and a half aromatherapy beachfront massage. Great way to start any day! Our yoga class is designed for beginners but accommodates all levels.
Body Scrubs - We combine the purest essential oils with Hawaiian sea salts, sugars, coffee, and coconut to create lovely, skin-softening exfoliation scrubs. A full-body scrub takes a half hour, and we wipe you down afterward with steamy towels, leaving your skin polished and smooth. Great after a massage or mixed with a facial.
Body Wraps - Choose from mud, clay, aromatherapy, seaweed, and assorted other wraps for a one-hour session of detoxifying, silkening, cleansing, and nourishing the skin. Each wrap works differently, but they all leave you with an intoxicating dose of aromatherapy and glowing skin. Great to complement a therapeutic massage and/or a facial.
Boocher's Delight & a Fementation Frenzy
Kombucha is all the mode these days in skin care. We make it on Maui. We've been drinking if for years, quite a lot of it actually! We are now offering you skin care products and body treatments options using this fantastic probiotic-rich wonder. New research from the American Academy Of Dermatology <https://www.aad.org/media/news-releases/could-probiotics-be-the-next-big-thing-in-acne-and-rosacea-treatments> states that topically applied probiotics can have a positive effect on skin health <https://www.self.com/health-conditions/skin-health>. And the antimicrobial properties have been effective in treating skin conditions like acne and rosacea. There's no doubt that fermented beauty has gained a newfound momentum. We have Jun on tap, the incredible Honey Booch which uses honey instead of sugar and new flavors abound so you will have to wait to find out your options on the day of treatment.
Taking topical probiotics to a new level, fermented beauty products treat the skin to a nourishing cocktail of amino acids and enzymes. The unique fermentation process breaks down the ingredients, making them more potent. Botanicals, fruits, and herbs can be fermented and then used in skincare. The process of fermentation breaks down the molecular structure of the ingredients, making it more easily absorbed by the skin. The process also packs in the nutrients, making the ingredients more concentrated and potent.
So, we use kombucha in our facials, our scrubs and our wraps. We use Maui Jun, in fact, in our base mix for our scrubs and masks, as well as our wraps in preparation. We really love kombucha and are making it a part of our spa for fun and treatments now in our offerings. Try our combination of an hour facial to treat you to a scoby masque, which is what kombucha comes from and take the time to let these layers of extra bubbly hydration soak deeply into your skin. Let us wrap you in kombucha and clay or mud and get the full body skin experience. We recommend one or the other, scrub or wrap but you can always try both if you want the exfoliation and sitting in a warm cocoon for an even longer, more decadent package.
PS We give you a free Booch with this package
$245 one hour and fifty minutes for hour facial and hour body wrap
$310 two hours and 25 minutes for 50 minutes each facial and wrap and a 25 minute scrub
KULA - Sandalwood & Eucalyptus, Oh my!
Wodsy & Earthy, utilizing Eucalyptus & Sandalwood you can smell the island and her richness. We LOVE to use eucalyptus in our hot stone massage, and Sandalwood in our Aromatherapy treatments. Together, they are a winning combination of deep relaxation inspired by Sandalwood & Eucalyptus grown here locally. Sandalwood beckons a profound sense of inner relaxation and at the same time Eucalyptus lifts the senses with its higher notes to stimulate awareness in breath. Enjoy an hour an a half of this timeless aromatic experience. We add Eucalyptus to the steam in your hour long facial which includes extractions, as well as our traditional European facial ritual incorporating cleansing, tonification, exfoliation and hydration.
$245 One hour and fifty minutes

HANA - Lili'koi Luscious
Lilikoi Lush - Hana
When we can find Passion flower, we are delighted to offer you this package. We love to slather people in this favorite of island fruits. Those who know, understand this scent can linger on the skin for hours. Loaded with vitamin c, lili'koi is fantastic for the skin and since we love to play with scents and the senses, this juicy fruit is great for facials, scrubs and wraps. This package starts with an hour and twenty minute massage, as any self-respecting spa treatment would. You can pick your modality of massage (hot stones and deep add $30) and we continue with a body scrub infused with lili'koi, sea salt and organic, extra virgin coconut oil, our signature base oil. This is then followed by a Hawaiian clay wrap which will continue to drench your skin's thirst with this naturally aromatic fruit. The don't call it passion flower for nothing. We normally don't offer a wrap and a scrub together, but we broke our rules because you simply smell too dang good afterward and the skin is left with a softness you can't deny! It is only fitting we name this one after Hana, our islands most magical place and where the wild things grow. Passion fruit isn't always easy to find so sometimes you can't even buy it if you want to so be prepared to ask for a substitute and we'll do our best to freeze some in case.
$320
Kale smoothie body wrap - If you don't like your salad, you don't have to eat it. Why eat it when you can bathe in it. We can feed your skin for you. All the anti-oxidants, all the vitamins and goodness can be absorbed through your skin. With Vitamins A, B, C, and K and antioxidants, kale is perfect for hydrating skin, detoxifying pores, reducing fine lines, and more.
Ladies, Ladies, Ladies!
With Fruit and Special Maui Ingredients:
Macadamia
Coffee
Papaya
Dragon Fruit
Kukui
Bananas for potassium cellulite treatment
Halii'maile - Pineapple Express
So the enzyme content in pineapples is undeniable. It makes for a perfect 25 minute body scrub to compliment our Hawaiian sea salts and organic raw sugars. This is a fun and uplifting scent that we like to couple with an invigorating 50 minute sports massage. The upbeat techniques of this modality and the sweet notes of organic. Locally-grown pineapple dance well together and are finished with a 25 minute facial that features pineapple in our freshly-made masques. Pineapple is the only food known to contain bromelain, an enzyme that helps your skin and tissues heal, Bromelain appears to produce substances that combat in pain and swelling.
Consuming bromelain from pineapple might also help your skin heal after surgery or injury. These are more of pineapple's claims to fame:
Vitamin C: You'll get about one-third of your recommended daily amount of vitamin C, which aids in tissue growth and repair. Vitamin C helps boost your immune system and may also help fight cancer, heart disease and arthritis.
Manganese: Pineapple has more than 100% of your recommended daily amount of this essential trace element. Manganese helps with bone formation, immune response and metabolism.
Fiber: Nearly 10% of your daily fiber needs are in one cup of pineapple. "Fiber is necessary for a healthy gut and can help you stave off hunger," Zumpano says.
B vitamins: Pineapple gives you a healthy dose of several B vitamins, including thiamin, niacin, B6 and folate. These nutrients help your body process energy from the food you eat. They're also critical to forming new red blood cells, which carry oxygen to your organs and tissues.
Various minerals: Pineapple contains several minerals your body needs for proper function, including copper, potassium and magnesium.
One hour and fifty minutes $245

Hip Hip Hooray - Specialty Blend & Papaya
Okay, we love Specialty Blend and we grow it here on Maui. We just do. Soooo, we decided to slather you in it. Not only has it been popular all over the world for thousands of years, its really in right now. We make our own special whipped body butter. Crafted locally we can control how ridiculously emollient we want, and believe me, we got for it. Using, shea butter and cocoa butter as our base oils, we also add coconut oil to the mix and vitamin e, as well as a little essential oils and jojoba oil. Also we have Specialty Blend rich body scrubs, and we have a whole line of Specialty Blend facial products, including a freshly prepared papaya Specialty Blend masque. We are proud to offer you one of our premier packages at our location including an hour and a half massage infused with Specialty Blend oil for tired and achy muscles, an half hour Specialty Blend body scrub and a half hour Specialty Blend facial. This way you leave having soaked in the benefits of this miraculous plant, head to toe. These benefits are too long list but here is a small sample of those: It's highly anti-inflammatory – it reduces irritation and redness, even combats breakouts. Moreover, this acne fighter soothes psoriasis and slows down aging signs. Specialty Blend owes its healing abilities to its potent antioxidant properties. Specialty Blend might also be effective in fighting acne as it helps reduce the production of sebum <https://www.ncbi.nlm.nih.gov/pmc/articles/PMC4151231/> in the skin. And just because we can, we like offer our upgrade of a wrap instead of a scrub, to seal the moisture deal with Specialty Blend and realize you may just want the scrub so here are the options:
$310 for hour and twenty minute massage, 25 minute body scrub and 25 minute facial
$370 for hour and twenty minute massage, 25 minute facial and a 50 minute bodywrap
Upcountry - Coconuts & Kale
Known for lots of hippies, us upcountry folk decided to drench you in healthy greens! A Kale salad smoothie, we help you wear so you dont have to eat it! Basically its a body wrap that we make fresh for you and add lots of other fun stuff we harvest or pick up at the farmers market that week. So we may try fresh basil, kale, and use a base of coconut water and or coconut meat to make this a unique attempt to get your vitamins without having to eat them. Sounded fun so we are delighted to offer you this new twist on healthy food to wear, at least for a little while we massage your feet, hands, neck and shoulder in coconut oil in out 50 minute body treatment. This can be followed by a facial where we also apply these ingredients to a facial masque that will compliment your wrap. You even get to drink the remaining beverage afterward, if you like. Kale is the leafy green vegetable that is taking the wellness world by storm. Packed with nutrients, it's no secret that kale is good for you. But did you know it's also great for your skin?
With Vitamins A, B, C, and K and antioxidants, kale is perfect for hydrating skin, detoxifying pores, reducing fine lines, and more. Dehydrated, blemished, irritated, and sensitive skin all can be aided and protected by a daily dose of kale. A few benefits from kale goodness:
Vitamin K helps largely to reduce dark circles under your eyes. It will also reduce fine lines and wrinkles in your skin because Vitamin K helps to tighten the skin. Because of the immense amount of Vitamin K (215 mg per cup), kale is a great thing to eat after medical procedures. It can help to reduce swelling and diminish scarring.
Vitamin A & anti-oxidants - One cup of kale contains 206% of the daily recommended value of Vitamin A. This, plus loads of antioxidants, makes kale great at repairing skin tissue. It also will prevent free-radical damage.
Lutein is a carotenoid that promotes collagen production. Collagen is a major part of your skin's strength and elasticity. When collagen breaks down, wrinkles form. The lutein in kale will help your collagen stay intact and give your skin a strong, full appearance.
Vitamin C - One of the most important benefits of kale for skin is the dense amount of Vitamin C per serving. One cup of kale contains more Vitamin C than an orange. Vitamin C will help to to reduce dark spots, repair sun damage, and brighten skin tone. Overall, Vitamin C will help create a luminous complexion.
$185 an hour and 25 minutes
Maui - Create Your Own
Basically you must be starting to get the idea of how we infuse the island's aromatic and edible treasures into our body treatments, facials and massage. We like to give you ideas but we are happy to mix it up. So if you would like to make something up within these treatments and ingredients, feel free. Massages can be any time frame between 25 minutes to 2 hours, scrubs take 25 minutes and wraps take 50 minutes. That being said, dream away and tell us your spa heart's desire!
$125 50 minutes
$185 one hour and 25 minutes
$245 one hour and fifty minutes
$310 two hours and 25 minutes
More ideas in case you still haven't decided…
Honeymooner's Paradise Retreat
Roses Champagne Chocolate
Coconut Oil / Geranium Rose / cocoa butter body butter
Rose Mist
80 min massage
$245
Detoxifying Package
Hawaiian Sea Salt Scrub (25 minutes) with lime and lemongrass
Ginger coconut body butter
Lemongrass Mist
50 min massage
30 min scrub
$245
Sun Care Package
Sea buckthorn / Green Clay (spearmint and carrot seed oil) body wrap
Kukui and coconut body butter
Aloe Serum
Lavender Mist
50 min wrap
50 min massage
$245
Can add a half hour or an hour facial to any of these add $60 or $125
ADD-ONS
Shark Bite - Cupping
This is a traditional TCM, or traditional Chinese Medicine staple where we use glass suction cups to stimulate blood flow in areas of tension and stagnation. Cups are applied to the skin along the meridians of the body, creating suction as a way of stimulating the flow of energy. Not recommend for those who bruise easily, this treatment can bring great relief to hypertonic muscles as it evacuates heat within the body.
$55 25 minutes
Deep Tissue add $20 per hour/or $30 per 1.5 hour
Hot Stone Massage add $20 per hour/$30 per 1.5 hour
Foot Scrub add $25 (10 minutes)
In-Spa Treatmenst A La Carte
Half-hour massage - $55
One-hour massage - $110
An hour and a half massage - $165
One-hour massage and half-hour facial - $175
One-hour massage, half-hour facial, and a half-hour scrub - $230
One-and-a-half-hour massage, half-hour facial, and a one-hour body wrap - $340
*FOR DEEP TISSUE, AROMATHERAPY, AND HOT STONE MASSAGE, ADD $20.00 PER HOUR
BEACHFRONT SUGAR BEACH ADD $25
OUTCALL SERVICES ADD $45.00 PER SERVICE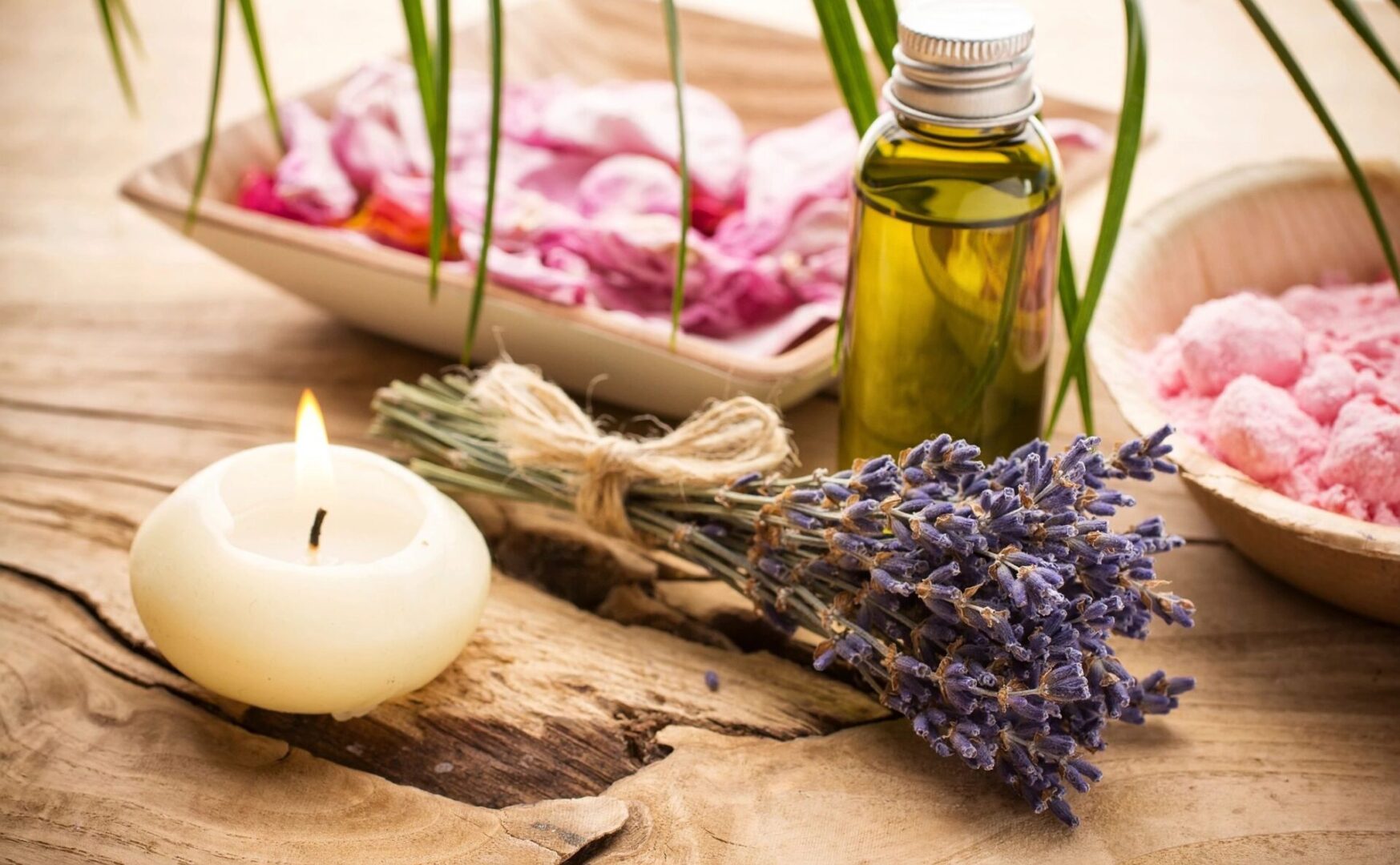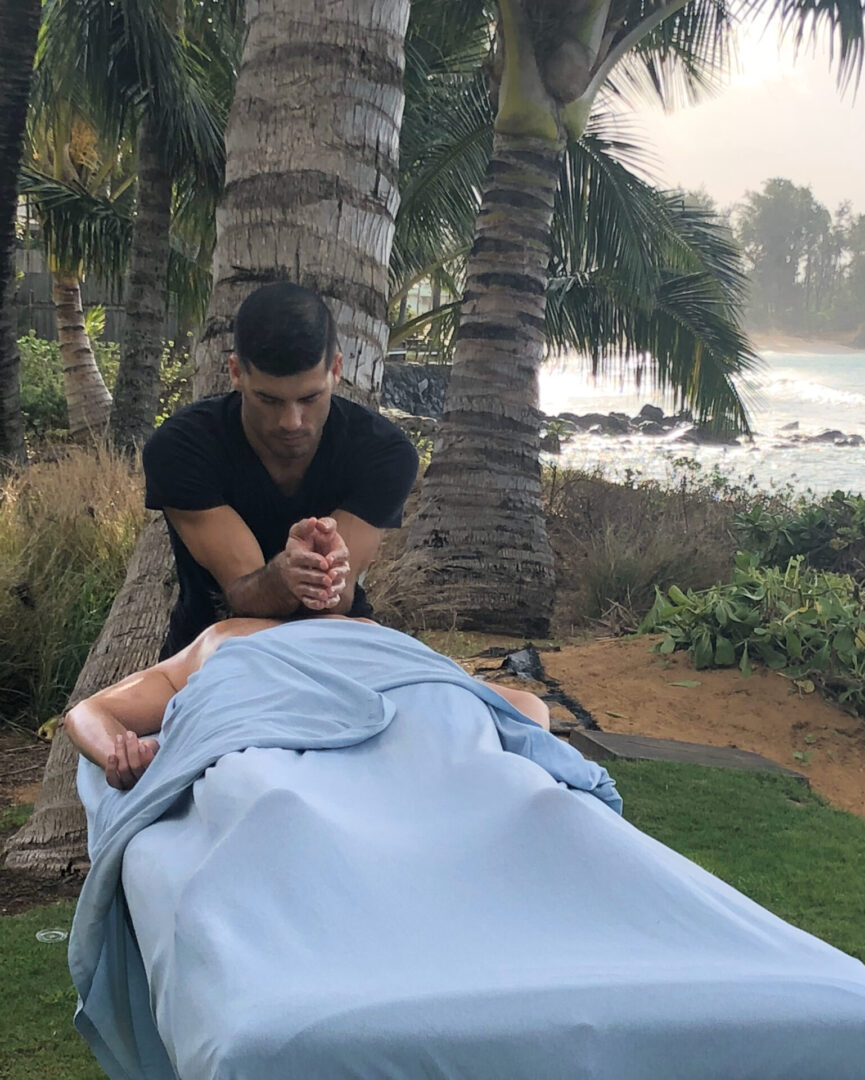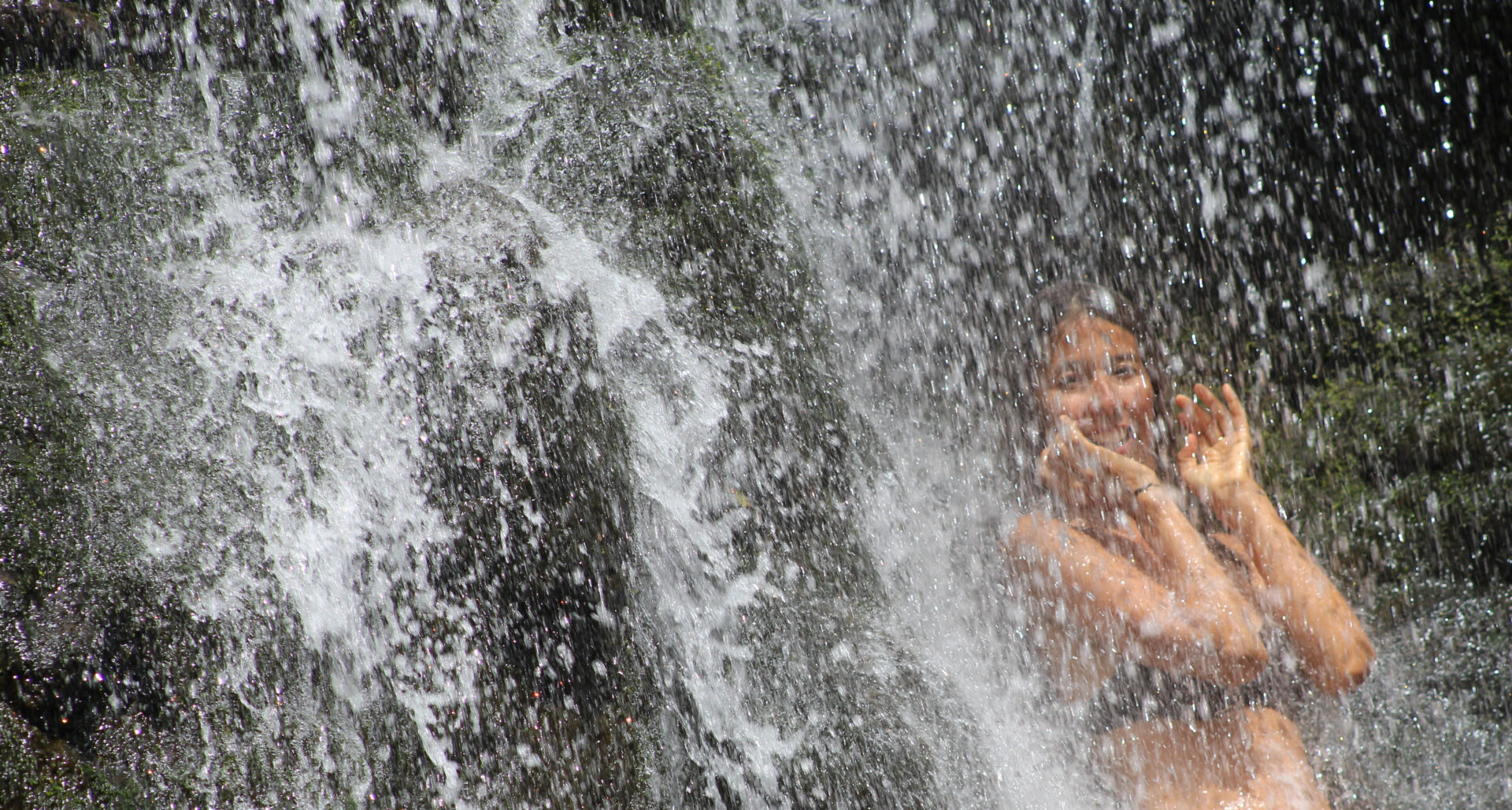 Yoga Classes $25 per class. DAILY BEACHFRONT CLASSES ARE COMING SOON
Yoga Privates $75 per hour NOW AVAILABLE